Celia Martin's books are available at all book retailers. Please use the above link to order the book.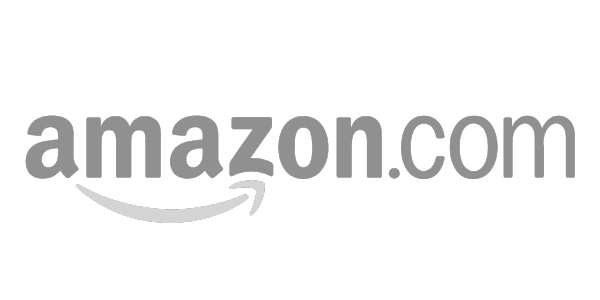 Lady Timandra Lotterby has traveled with her dear friend Eliza Tilbury and Eliza's siblings to Eliza's great uncle's estate in the wilds of Northumberland, England. Timandra is accompanying her friend to lend support to Eliza after the death of Eliza's father and the uprooting of Eliza and her siblings. Their seemingly inauspicious arrival as the sun is setting has them all on edge as they stare in wonder at the rambling Perfidious Brambles. Great Uncle Percival Seldon at first seems to be a fearful curmudgeon, but under the influence of Timandra and Seldon's grandson, Gavin Merritt, he mellows. But ghosts and murder attempts are threatening the peace. As Timandra tries to solve the mysteries, she finds herself falling in love with the handsome Gavin Merritt. But can she win his love, or has he already given his heart to Eliza?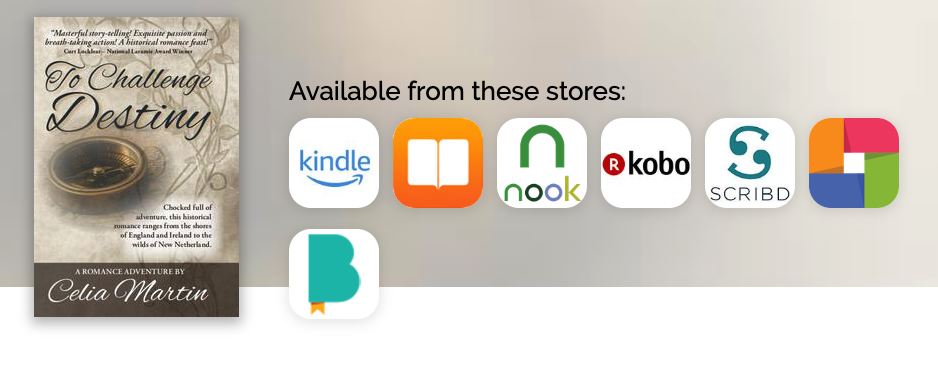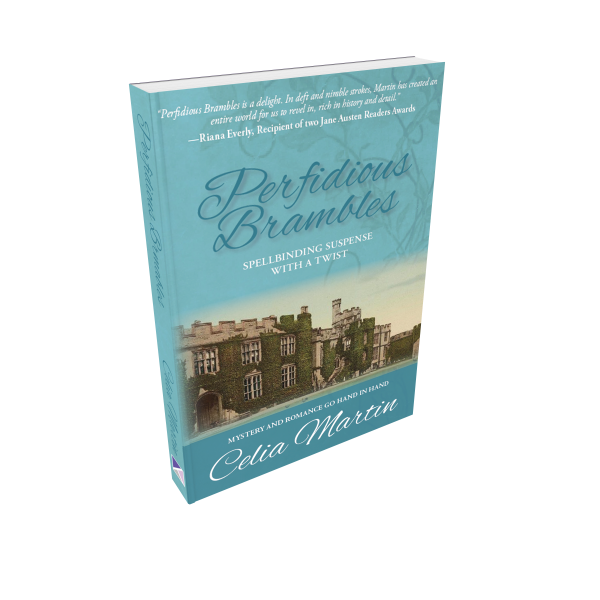 Book Review "Perfidious Brambles"
"Celia Martin's new novel Perfidious Brambles is a delight. In deft and nimble strokes, she has created an entire world for us to revel in, rich in history and detail, so skillfully rendered that we can see the bricks of the old towers and the stones of the ancient walls. Her characters are finely drawn, and we feel we would know them were we to meet them at tea, each unique and very real. Readers will love the plot with its high romance and touch of intrigue. If you are looking for a lovely novel in which to get lost, you have certainly found it here."
—Riana Everly, Recipient of two Jane Austen Readers Awards
Celia Martin's books are available at all book retailers. Please use the above link to order the book.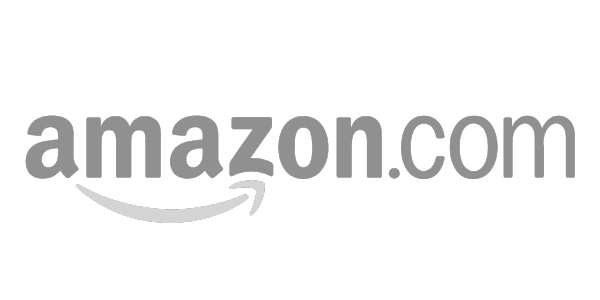 Lady Elizabeth D'Arcy has traveled to London with her Aunt Phillida in the hope of finding love and adventure. She may have found both when she intervenes, with the help of the ever so handsome William Hayward, to help Annis Blanchard escape the clutches of the villainous Lord Creighton, so Annis can be with the man she loves, Sir Jeremy Danvers. With each passing day, Elizabeth finds herself falling more and more in love with William as he helps her navigate the intricacies of court life. But is he truly in love with her, or is he merely a fortune hunter after her large dowry? As they escape unharmed from one frightful adventure after another thanks to the help of an array of delightful characters, Elizabeth faces an additional hurdle to love. As the daughter of the Earl of Tyneford, will she be allowed to marry a commoner? Will love win out?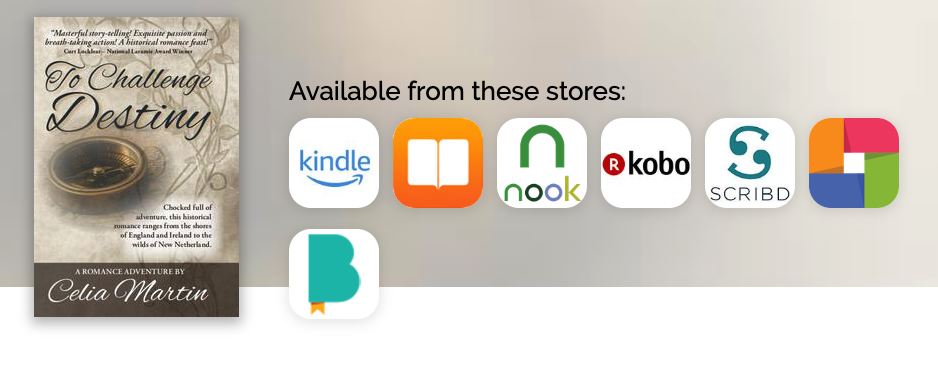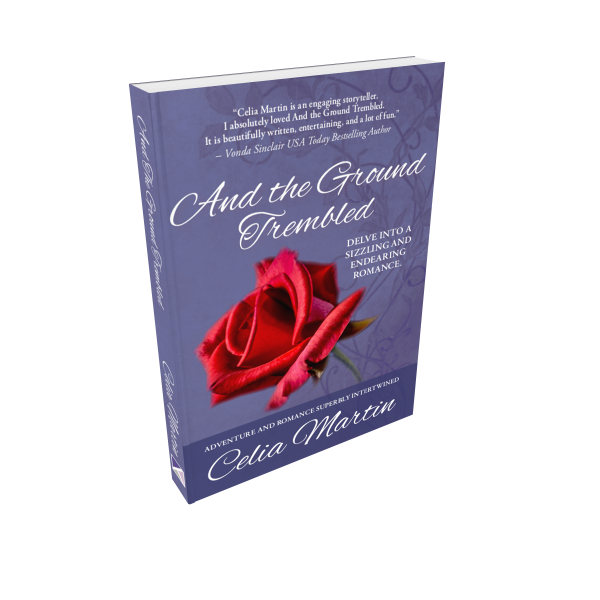 Book Review "And the Ground Trembled"
"I see fans of the historical romance genre flocking to Celia Martin's And the Ground Trembled. Lush descriptive passages, a vivid rendering of the historical period, and strong characterizations highlight this novel. Martin feels a strong personal connection with this era in history. The book shows her familiarity with even the smallest of details about its fashion, a keen ear for human speech of the time, and more than a nodding acquaintance with its history."
–Mindy McCall, Reprospace Reviews™

"Celia Martin is an engaging storyteller. I absolutely loved And the Ground Trembled.
It is beautifully written, entertaining, and a lot of fun."
–Vonda Sinclair USA Today Bestselling Author

Celia Martin's books are available at all book retailers. Please use the above link to order the book.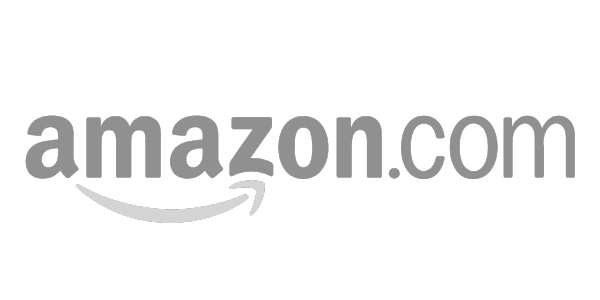 Amaryllis Bowdon has spirited her young siblings, the two-year-old Sir Charles and six-year-old Tabitha, away from their home because she believes their aunt is attempting to kill the young baronet so her own son can become the baronet. In their fearful flight, Amaryllis never expected to be befriended by Lady Selena D'Arcy and her much too handsome brother, Reginald D'Arcy. Reginald is charged with escorting his sister to their uncle's manor in Leicester so their aunt can turn Selena into a true lady. Reginald doubts such a feat can be accomplished, but despite all Selena might do to slow their progress, which included rescuing an injured dog she names, Fate, Reginald is determined to get his sister to Whimbrel Manor. But when Selena is equally determined to help Amaryllis and her siblings, Reginald finds he is only too happy to readjust his plans. Amaryllis is an angel and do they have to go out of the way to get Sir Charles to safety, then so be it. But they have no way of knowing Amaryllis's aunt has sent a man to make sure Sir Charles never reaches that safe destination. Keeping Sir Charles from being killed becomes a desperate race.
"Celia Martin's Fate Takes a Hand provides a reading experience any devotee of historical romantic fiction will enjoy and holds up under multiple readings."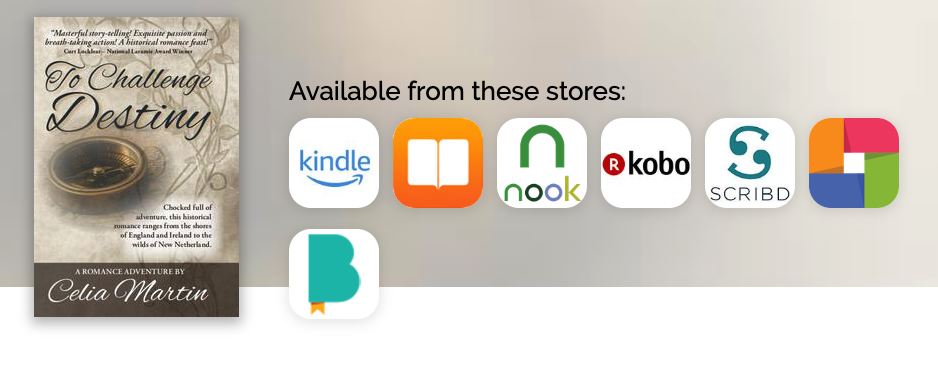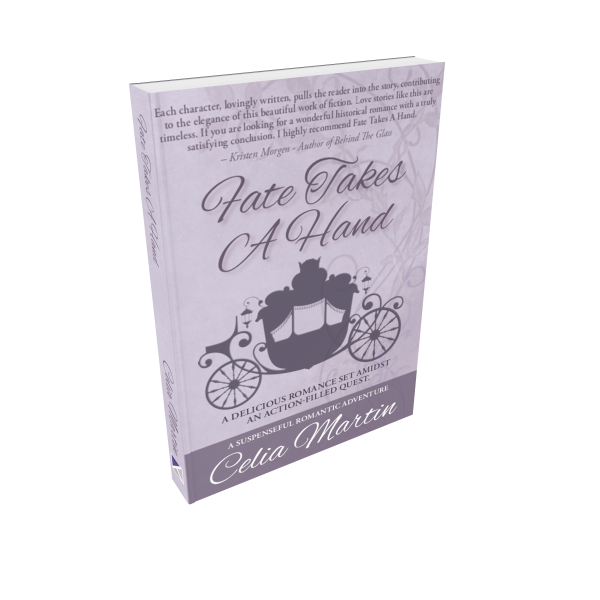 Book Review "Fate Takes a Hand"
It's not often that a historical romance so eloquently transports you to an earlier time period so precisely and allows the reader to be swept away in every detail without a second thought.
The tone of this beautifully written book, the pace of the adventurous storyline, as well as the extremely lovable characters, were all perfectly in sync throughout the book. The reader can easily get lost in the story while truly feeling as if they are encapsulated in another time and place in history.
The language and dialogue fit the time period perfectly and the book is masterfully crafted, telling a rich tale of the beautiful and brave Amaryllis and her young siblings' travels while fleeing peril at their heels. It's easy to fall in love with each character introduced along the way, each telling their own story as well. Thoughtfully placed plot twists keep the reader guessing and the sweet love story of Reginald and Amaryllis will keep the reader rooting for them throughout the book.
Reginald's sister Selena is a particularly strong female character, while the young children and an adorable dog named Fate provide some light humor.
Each character, lovingly written, pulls the reader into the story, contributing to the elegance of this beautiful work of fiction. Love stories like this are timeless. If you are looking for a wonderful historical romance with a truly satisfying conclusion, I highly recommend Fate Takes A Hand.
–Kristen Morgen, Beyond the Book

Celia Martin's books are available at all book retailers. Please use the above link to order the book.
Lady Rowena Crossly is determined to rescue her daughter, Cecily, from the Cromwellian Cecily has been forced to marry even does she have to shoot the man, but luck is on her side. Haspel, the Cromwellian carting her daughter away, has been stopped by a gang of highwaymen. They help Rowena rescue her daughter, but then she and Cecily must travel with the highwaymen if they are to stay out of Haspel's clutches. Needing to don various disguises and adopt numerous different names, they bounce from one adventure to another. Being ever in the presence of the lead highwayman, Nathaniel D'Arcy, has Rowena beginning to fear her growing feelings for the dashing highwayman. With a warrant on her head for being in league with highwaymen, Rowena faces an uncertain future.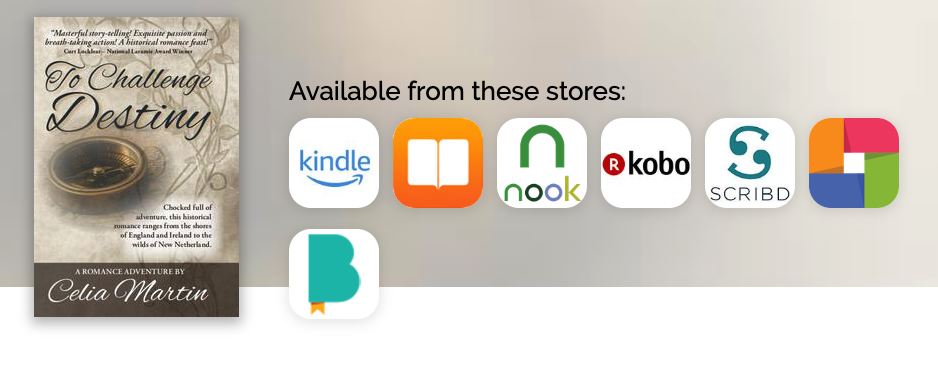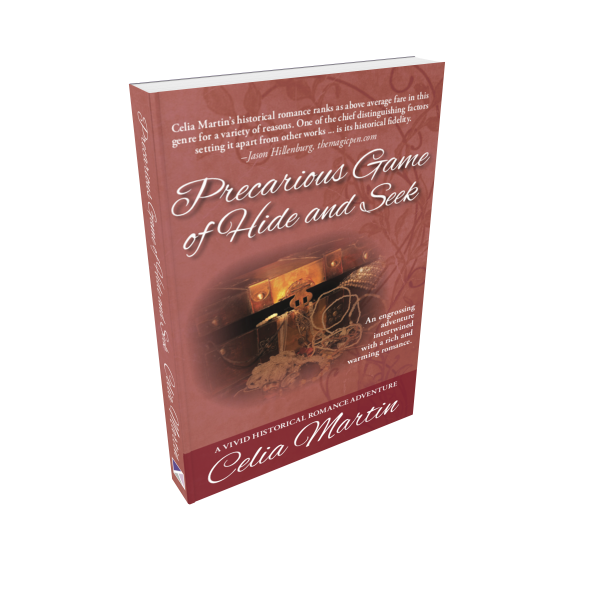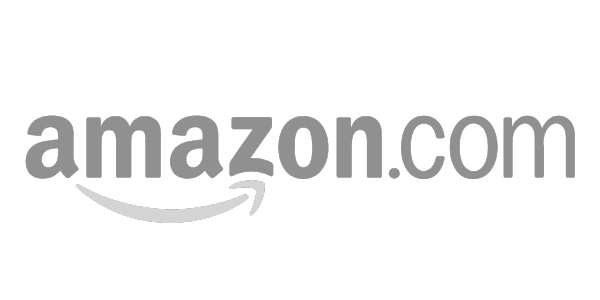 Book Review "Precarious Game of Hide and Seek"
Celia Martin's historical romance Precarious Game of Hide and Seek ranks as above average fare in this genre for a variety of reasons. One of the chief distinguishing factors setting it apart from other works of this ilk is its historical fidelity. It is clear Martin made a great effort to ground this work in its time, mid 1600's England during the time of Oliver Cromwell's rule over the isle, and it has the ring of truth. Other writers will adopt a historical setting in order to give their work an ultimately facile flavor but once you give their words a close reading, you discover their decision is window dressing alone.

The dialogue is another reason why this work rates as above average. The exchanges between Martin's characters advance the plot, develop character, and rarely strikes a false note. There's a musical quality to her best dialogue that never seems self-indulgent but rather a reflection of the high flown diction of the time. While she obeys many of the genre's conventions, she upends reader's conventions with her unfailing skill for assigning credible motivations for each of his characters rather than maneuvering her characters through the story like cardboard clichés present only to move the reader to the next scene.
The narrative moves at a swift clip without rushing things along in a dizzying manner. Her ability to develop each set piece in full without skimping on details is an outstanding aspect of the novel. The descriptive powers she exhibits throughout Precarious Game of Hide and Seek are impressive. Swaths of her language in this area may seem inflated to some readers, but her choice in this area is consistent with the novel's overall aesthetic and gives the novel a widescreen grandeur many readers, particularly those who enjoy historical fiction, will find quite fulfilling.
There are clear protagonists and antagonists throughout the novel. Many authors inexplicably fumble this, but Martin has a sure hand for this certain to grip many readers. Martin brings readers straight into the novel's action as it opens and she sets out the classical elements of what makes the form work from the start and throughout. The protagonists have clear goals they want to achieve, Martin throws a number of obstacles in their way, and she carries us towards an inevitable climax leaving each of the central characters forever changed since their initial introduction.
Precarious Game of Hide and Seek is the product of a fine writer working at or near the peak of her powers. Those who love historical romance will enjoy the book a great deal and even those who might disdain this genre will find themselves, if they bring an open mind to bear, entertained by this cinematic and well written piece of fiction. Evaluating works in specific genres must be by the standards constituting exceptional examples of the form and, by this test, Celia Martin's Precarious Game of Hide and Seek is a sparkling entry in the style that will likely endure for some time to come. – Jason Hillenburg
Celia Martin's books are available at all book retailers. Please use the above link to order the book.
Since her youth, immensely wealthy heiress Delphine Lotterby has been in love with the penniless Torrance Madigan (Maddy), but he loves her cousin, Lady Venetia Lotterby. In their summer trek from Cheshire to the Lake District, Delphine strives to convince Maddy he really loves her and not her cousin. At the same time, because of her great wealth, she must be ever vigilant to avoid abduction and being forced into an unwanted marriage. Delphine is risking all on the chance she can win Maddy's love, marry him, and stop all the abduction attempts by the end of their trek.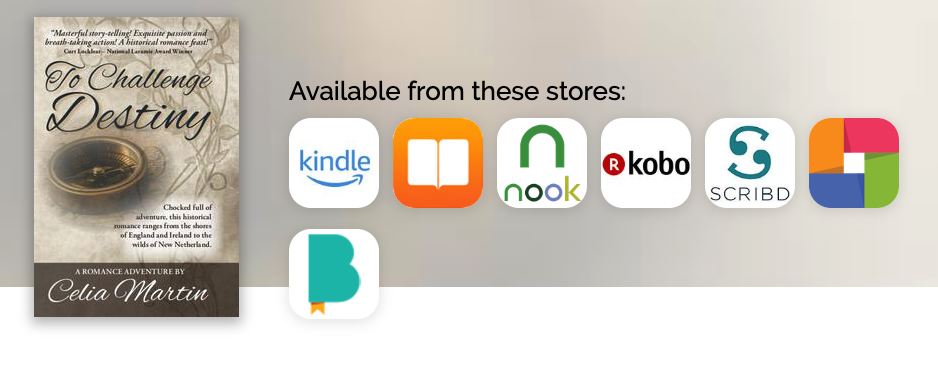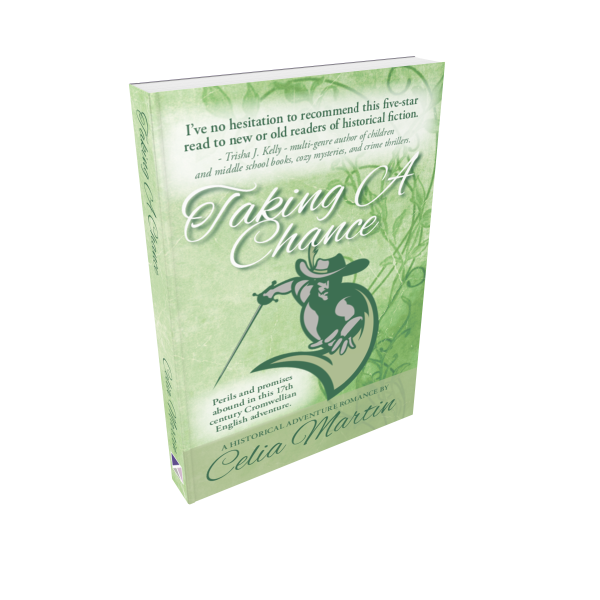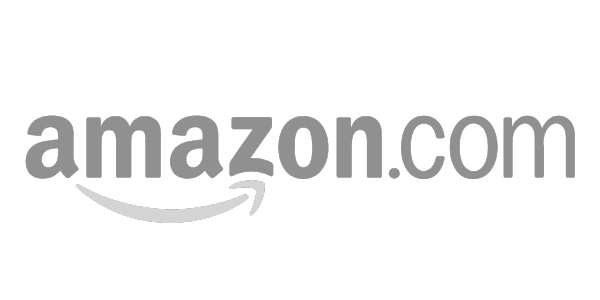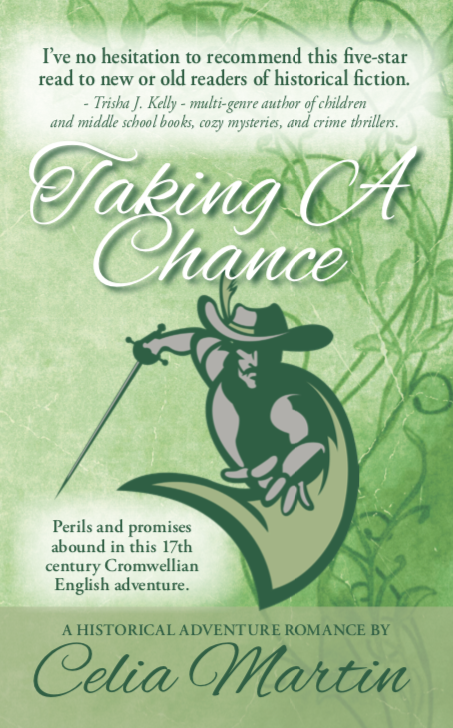 Book Reviews for "Taking A Chance"
I found myself absolutely pulled into this, not a book, but another world. A time, a place, which I could vision so clear in my mind. If you could imagine one of the works by the Bronte Sisters, or a renowned period drama on British TV, it would give you an idea of the content of this story.
Taking a Chance by author Celia Martin begins in the setting of Cheshire, England in 1654. The action is forefront as Delphine Lotterby, an extremely wealthy, young single woman, is once again the victim of a proposed abduction.
Set in this time period, with everything so different to modern day, many men will attempt to take her as their wife by force, in order to secure her vast estate. Throughout her life she has loved one man only, Torrance Madigan. though he is not aware of this. Indeed, he in turn, is in love with her beautiful cousin, Venetia.
In a tale of love, twists and danger, you will find yourself pulled along into the lives of the gentry, the ways of the times, just as if you were there yourself. With such detail in every scene, together with the factual timeline, you can feel every bump in the road as travellers take to coaches from one estate to another.
The highway robbers steal from the Roundheads to assist their King, Charles II. With many dangers to face and relationships to bloom, follow the well-written tale of times gone by. I've no hesitation to recommend this five- star read to new or old readers of historical fiction. I was thoroughly immersed in the storyline.
Trisha J. Kelly, Author, Living in England, Multi-genre author of children and middle-grade books, cozy mysteries, and crime thrillers. Winner of Best Children's book 2018 and Best Juvenile Fantasy 2018.
Lovers of historical romance will find this book grabs them from the first line and enfolds them in a firm grip. Set just after the English Civil War, the story follows the fortunes of two beautiful cousins and their respective loves. Throw in a few abductions, highwaymen, and scheming noblemen, and the author takes us on a delightful romp through the sexual mores of the 17th century. Delphine navigates the difficulties faced by women in the 17th century, and having money is no guarantee of happiness. It can even be a liability which makes them a target for fortune hunters, and frustrates the path to true love.

Celia Martin has clearly researched the period deeply. She captures the complex landscape of people dealing with Puritanism which squelches the fun out of life for ordinary people. It all makes a great backdrop for the wonderful heroine to shine as she strives to marry the man she loves.
C. A. Asbrey, Author of a series of 19th century murder mysteries, The Innocents Mysteries Series. She has also written articles on history and forensics for various magazines and periodicals.
Celia Martin's books are available at all book retailers. Please use the above link to order the book.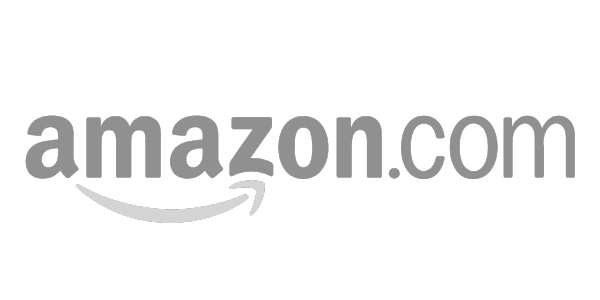 December 1692. When Sefton Ridgely set out for Salem, Massachusetts in the hope of convincing Serenity Norcross to return with him to New York, he presumed when she agreed to accompany him, that they would be traveling the post road, and he had every expectation they would be spending their nights in, if not clean, at least dry, inns or ordinaries. They would talk, become better acquainted, and perhaps love would blossom as they sat before cozy fires in private chambers. Ridgely's assumptions proved illusory. Instead, due to Serenity's caring nature and readiness to help those less fortunate, they find themselves in one precarious situation after another, from camping out in a snowstorm to fording flooded creeks. His responsibilities increasing as first they adopt a baby whose mother died, then they agree to escort two stranded children to their next destination, he begins to wonder what else awaits them on their journey? Who else will Serenity befriend? But most importantly, will he ever have a chance to win Serenity's love?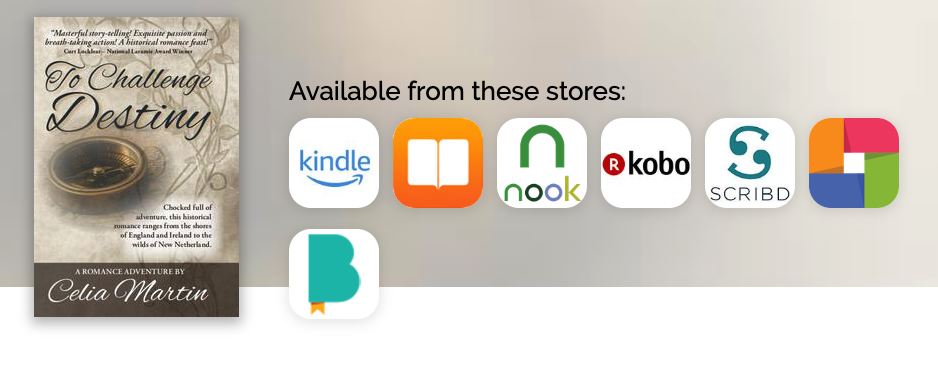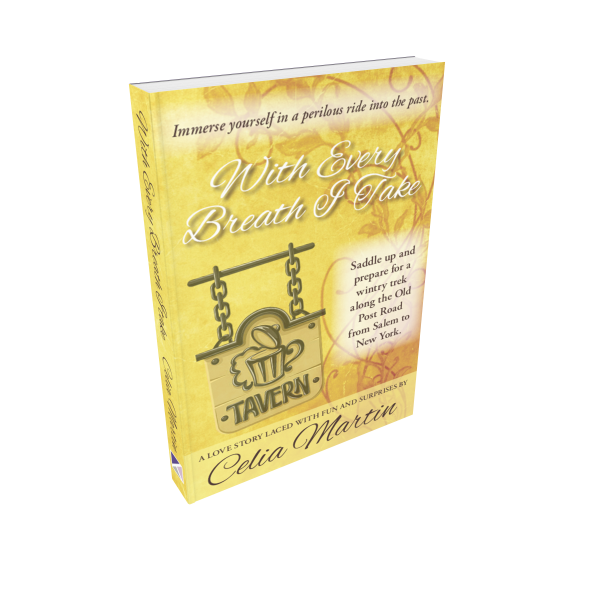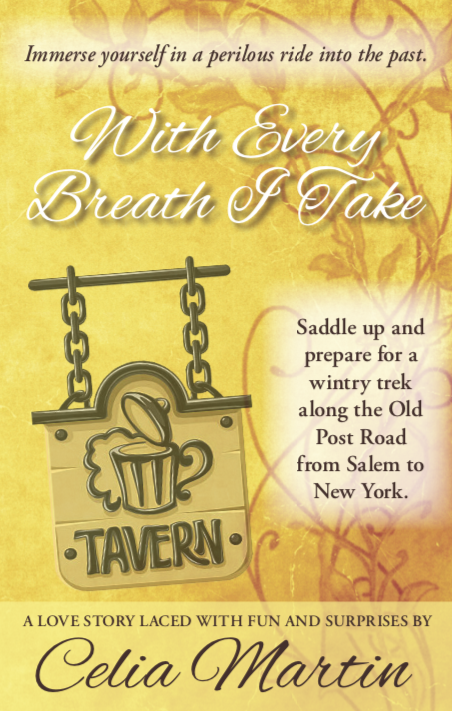 Celia Martin's books are available at all book retailers. Please use the above link to order the book.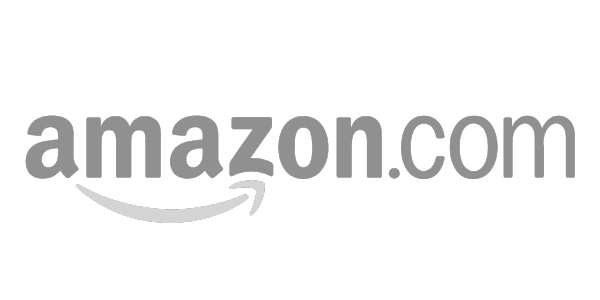 Convicted of witchcraft and sentenced to hang, Tempest Winslowe is swept from the gallows by Captain Garrett D'Arcy. Aboard the Wind Rover, Tempest forges new friendships and wins the admiration of the crew as first a pirate attack, and then a storm at sea test her mettle. But her most troublesome challenge lies in the containment of the impassioned fire that simmers just below the surface of her carefully controlled demeanor as she is thrown into close daily contact with her entirely too charming savior.

Her next book "With Every Breath I Take" will come out in November 2019.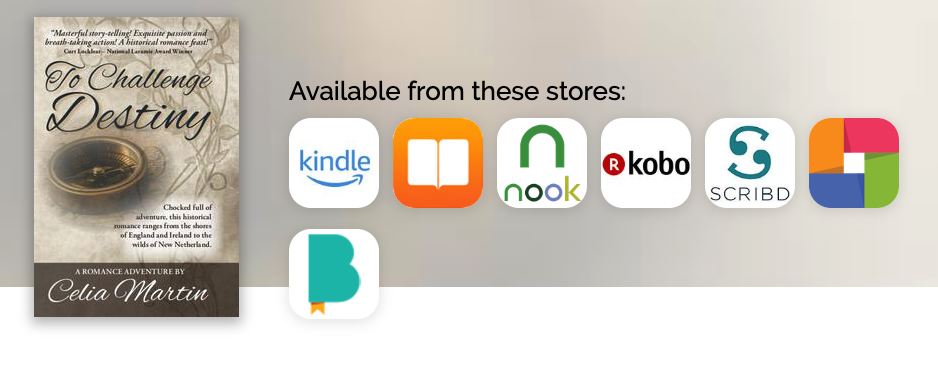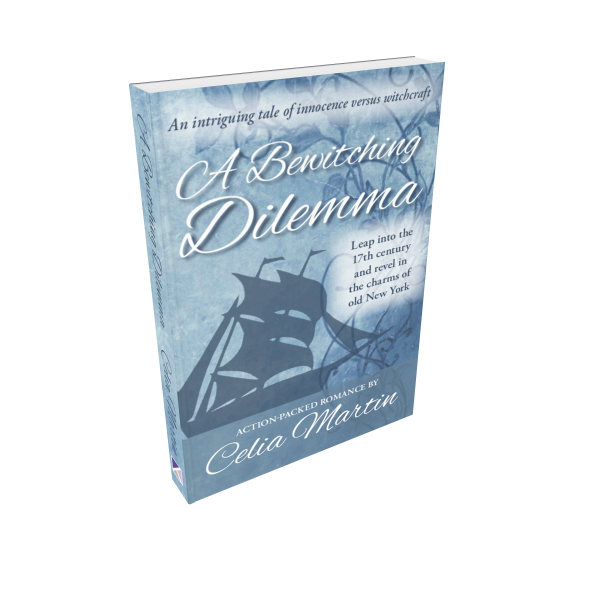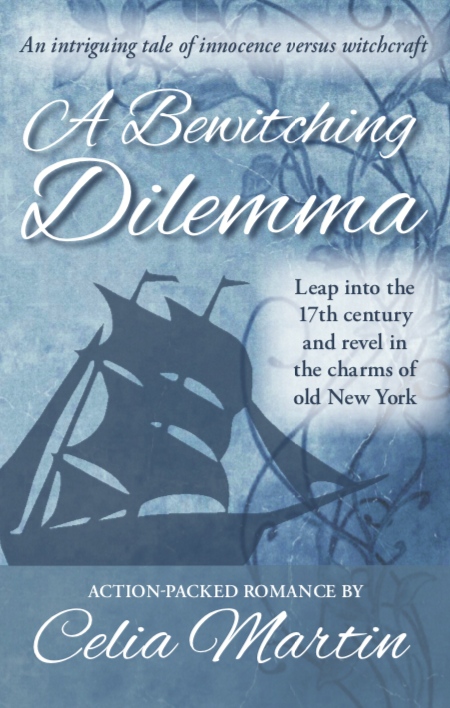 Book Review for "A Bewitching Dilemma"
"A willful heroine cornered by a relentless foe and a dashing sea captain tormented by his past cast their lots against the tides of a history dark with treachery, storm-filled canvas, and hanging rope. A compelling read cover to cover."

Michael Donnelly Author of False Harbor and Awakening Curry Buckle
Celia Martin's books are available at all book retailers. Please use the above link to order the book.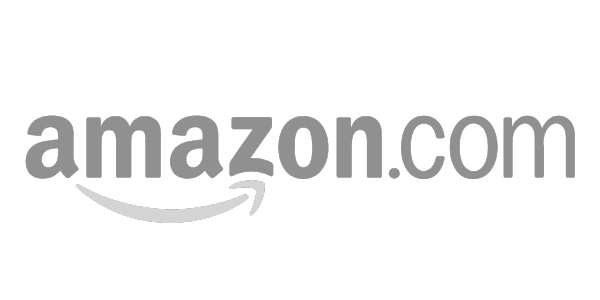 Silverdale, Wa June 1st. Celia Martin's book is now available at all bookstores and retailers.
Escaping England after the Royalist defeat at Worcester in 1651, Adler Hayward and his friend, Latimer Draye, join the Fortier family bound for New Netherland. Heartbroken at leaving his home and family, Adler finds solace in the eyes of Glynneth Fortier, the wife of Etienne Fortier, who suffers from consumption. Though Adler loves Glynneth more than life itself, he is devoted to her husband, and he and Draye are protective of the Fortier family. To earn their living, Adler and Draye become woodsmen, trading with the Mohawks and sharing several near-death adventures. As they settle into their lives in New Netherland, Adler and Glynneth cannot help but wonder what destiny awaits them in their strange and challenging new world.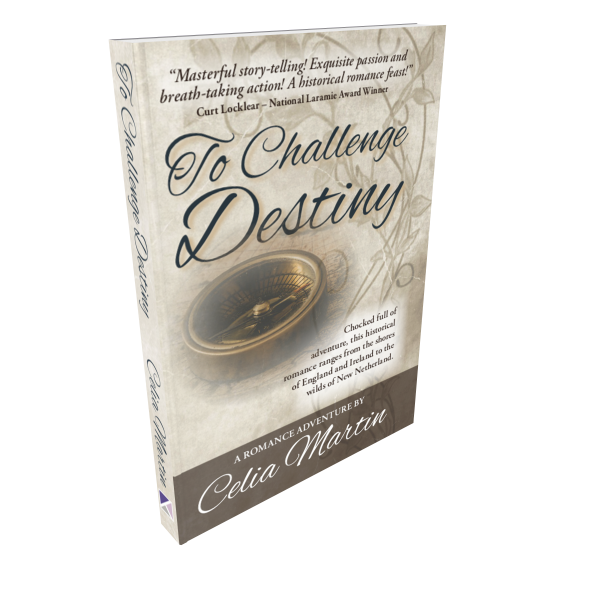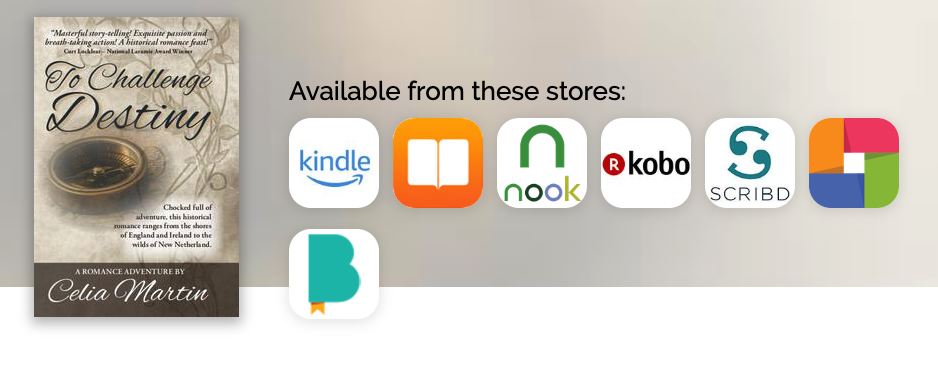 Book Reviews for "To Challenge Destiny"
Endorsed by award-winning author Curt Locklear
"If you yearn for a story skillfully told – if you like characters who find a home in your heart – if you enjoy historical accuracy blended masterfully into a story with robust action and enthralling, heart-wrenching romance, then To Challenge Destiny is your new favorite book. Being a historian myself, I cannot help but carefully monitor historical works for accurate details, and I am delighted with To Challenge Destiny. The attention to the accurate portrayal of seventeenth-century America and the customs of a variety of new-to-America Europeans; the topography of the new colonies; the exactness of the procedures for operating seagoing vessels; and even the plethora of languages and accents, add to the authenticity of the tale. The characters feel so real, it is as though you can reach out and touch them. The main hero and heroine, with their passions constrained by duty and honor, yearn for each other, but cannot unbind the knots of their lives with which destiny has bound them. Only when fate changes course is their love allowed to burst forth in exquisitely portrayed, intense scenes of passion. In amazing action sequences: the battles, the escapes, the weather, and, especially, the horrendous villains all play havoc on the characters. Who will survive? Will love triumph? You will thrill. You will cry. You will love To Challenge Destiny, your new favorite book. To Challenge Destiny is Masterful story-telling! Exquisite passion and breath-taking action! A historical romance feast!"
Curt Locklear, Award-winning Author, Editor, and Presenter. Winner of the National Laramie Award. Invited speaker at the 2019 National Historical Novel Society Conference. www.curtlocklearauthor.com
Professional Book Review
"Celia Martin invokes this historical era with feeling and fidelity illustrating that she is, indeed, a student of history and not just a teacher. Martin possesses the literary powers necessary for transforming the texture and tone of 17th-century life into dramatic form while still maintaining the aforementioned historical accuracy. Too often such works fall into the trap of populating its fictional landscape with one-dimensional character while focusing the bulk of its attention on nailing down details, but Martin avoids such pitfalls with To Challenge Destiny. The novel's four primary characters are rendered in a multi-dimensional fashion and never strain credibility. The novel's conclusion is powerful and convincing. Overall, To Challenge Destiny more than lives up to its billing as a "romance adventure" and Martin proves throughout the course of the novel that she has the vision and talent to make bygone times come alive for modern readers. The book, as well, has a near ideal length and the pacing keeps readers involved and attentive rather than risking their loss of attention throughout self-indulgent sideshows. Lovers of historical and romance fiction alike will enjoy this novel."
Anne Hollister, Professional Book Reviews
Celia Martin is a former Social Studies/English teacher. Her love of history dates back to her earliest memories when she sat enthralled as her grandparents recounted tales of their past, As a child, she delighted in the make-believe games that she played with her siblings and friends, but as she grew up and had to put aside the games, she found she could not set aside her imagination. So, Celia took up writing stories for her own entertainment. She is an avid reader. She loves getting lost in a romance, but also enjoys good mysteries, exciting adventure stories, and fact-loaded historical documentaries. When her husband retired and they moved from California to the glorious Kitsap Peninsula in the state of Washington, she was able to begin a full-fledged writing career. And has never been happier. When not engaged in writing, Celia enjoys travel, keeping fit, and listening to a variety of different music styles.